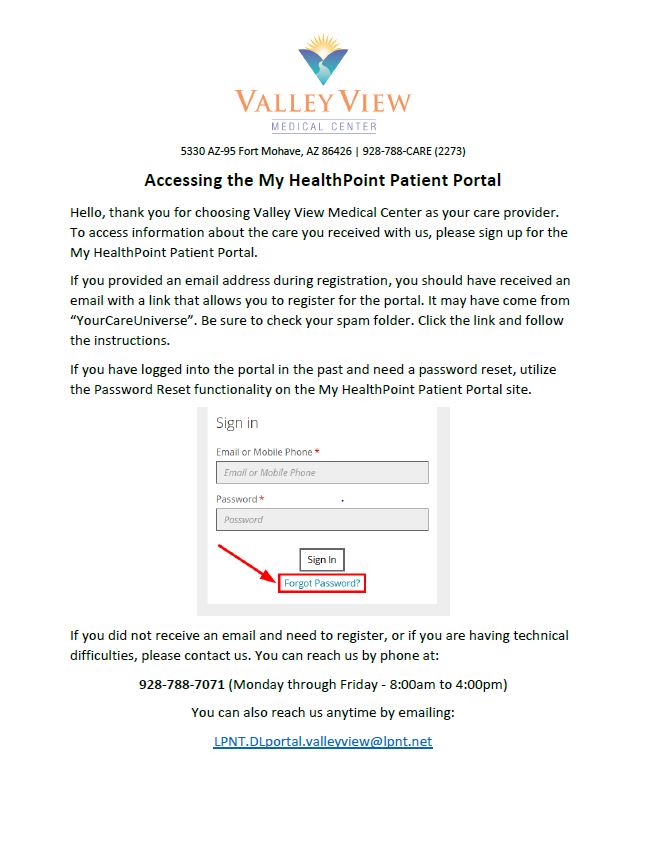 The My HealthPoint patient portal, offered by Valley View Medical Center, is a convenient, secure health management tool you can use anywhere you have access to the Internet. It provides access to important information about you and your visit(s) to our hospital.
Information available on My HealthPoint includes:
Admit and discharge dates and locations
Procedures performed during admission
Current and past problem list
Current medication list and medication history
Current medication allergy list and allergy history
Immunization records
Vital signs at discharge
Laboratory test results (available at time of discharge)
Demographics maintained by hospital (gender, race, ethnicity, date of birth, preferred language)
Family & social history
Online healthcare information is available to patients 18 years and older and who have been a patient at Valley View Medical Center on or after January 1, 2014.

All discharged patients who supplied a valid email address will receive an electronic invitation from the hospital and a link to register online for My Health Portal shortly after discharge.