Valley View Medical Center has enhanced our visitor policy as part of our commitment to providing a safe environment during the COVID-19 pandemic.
We have assigned a color reflecting its current visitation policy based on the number of active COVID-19 cases in our local community. The level of COVID-19 infections determines when and how many essential caregivers—patient advocates, family members and loved ones—can visit at this time.

We appreciate your cooperation as we work together to keep your loved one safe and healthy.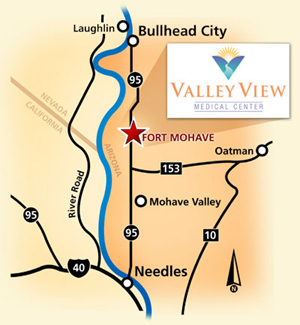 Updated Visitor Policy: August 16, 2021
At Valley View Medical Center, your health and safety are our top priorities. After careful consideration VVMC made important enhancements to our visitation policy in wake of current COVID-19 trends effective Monday, August 16, 2021.
No more than 1 visitor at a time
OB is limited to one significant other of the patient's choice. The designated visitor must stay in the hospital for the duration of admittance.
All visitors:
Must bring a facemask to wear at all times while in the hospital regardless of vaccination status.
Observe all hospital protocol and appropriate social distancing.
This excludes visitation for patients in isolation for confirmed or potential COVID-19 where we will continue to have a no visitor policy, except for extenuating circumstances.
Valley View Medical Center is conveniently located at 5330 South Highway 95. Ample free parking is available next to the hospital.
Visiting hours at Valley View Medical Center, including the Intensive Care Unit, are from 8 a.m. to 8 p.m. daily.

Children must be 12 or older to visit the Intensive Care Unit unless special arrangements are made.

The Gift Shop, located just inside the hospital's Main Entrance, is open Monday to Friday, 9:30 a.m. - 2:30 p.m.