We're Easy to Find!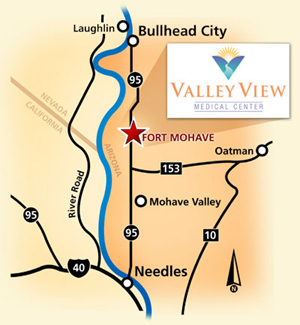 Valley View Medical Center is conveniently located at 5330 South Highway 95. Ample free parking is available next to the hospital.
Visiting hours at Valley View Medical Center, including the Intensive Care Unit, are from 8 a.m. to 8 p.m. daily.

Children must be 12 or older to visit the Intensive Care Unit unless special arrangements are made.

The Gift Shop, located just inside the hospital's Main Entrance, is open Monday to Friday, 9 a.m. - 6:30 p.m., Saturday 8 a.m. - 5 p.m., and Sunday 1 - 5 p.m.