Valley View Medical Center Names 2021 Mercy Award Winner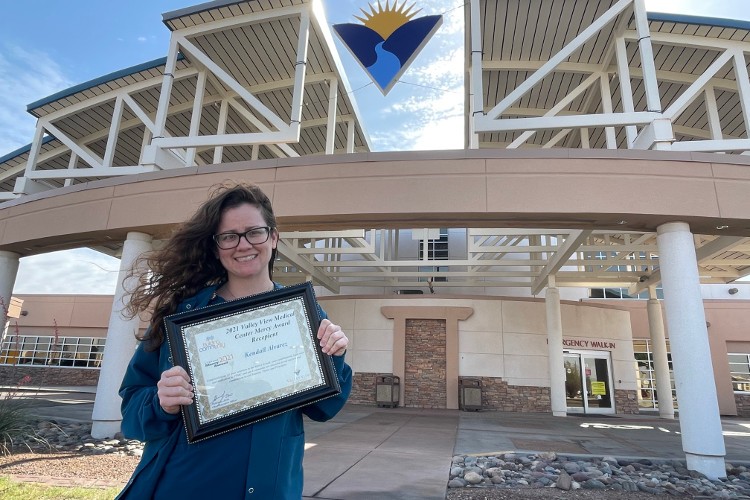 Valley View Medical Center recently announced that Kendall Alverez, PACS Admin/Team Lead, has been recognized as the hospital's 2021 Mercy Award winner. The Mercy Award recognizes one employee from each of LifePoint Health's hospitals who profoundly touches the lives of others and best represents the spirit and values on which the company was founded.
The Mercy Award is an annual recognition program established in 2002 to honor the life and contributions of Scott Mercy, LifePoint's founding chairman and chief executive officer. The award is considered the highest honor a LifePoint employee can receive.
"At Valley View Medical Center, we share LifePoint's commitment to making communities healthier, and we recognize this is supported by the good work and service of our employees on and off the job," said Feliciano Jiron, CEO of Valley View. "We are extremely proud to recognize Kendall for her efforts on behalf of our patients and our community. She goes above and beyond each and every day to ensure that every person he encounters receives the highest level of care and compassion."
As an employee leader Kendall takes the time to engage staff and help to educate, as well as support departments in their endeavors to expand their knowledge around patient care and radiology processes
Her positive attitude reflects her winning spirit in engaging the community as she actively participates as the President of the Mohave Valley Little League, Secretary of the Bullhead City Little League and Catechism Teacher at the St. Mary Margaret Church in Bullhead City. With energy and drive, Kendall has taken the lead in leading major little league fundraising programs, even with the
challenge of COVID and ensured that the leagues were ready to safely "Play Ball" in 2021. With her can do spirit, Kendall has helped raise funding and directly participate in the building of two community playgrounds. She has actively worked on the Shop with a First Responder Program, providing hands on support and donation collections of toys, dollars, and clothing for the hospital Shop with a First Responder Christmas event.
Kendall is also actively engaged in helping to mentor radiology tech students from the local Mohave Community College and has created a grassroots effort to recruit these individuals to our facility upon completion of their program. Without a doubt, she has shown her abilities as a valuable member of the Tri-State River Valley Communities, which she is very proud to live in.
Each hospital winner, including Kendall, will be considered for LifePoint's 2021 companywide Mercy Award. The companywide winner will be announced this summer and honored during a ceremony in Nashville, Tenn., in August, to which Kendall and all hospital winners are invited to attend.
Read All Posts